Classified ad details
Roll glass by Klein Europe - Other furniture
Ref. number: 32630 Updated: 07-11-2016 11:23
| | |
| --- | --- |
| | |
Product: Roll glass
Family: Roll glass

Glass Partition Walls has been designed for separating rooms by a glass wall combining fixed and sliding panels. It is compact system for a modern and minimalist design. We are single profile combining both fixed and sliding panels for optimum hermetic sealing and more straightforward installation.

Ideal for partitioning offices, conference rooms, bathrooms, bedrooms, showers, etc.
Compact system for a minimalist design.
Minimal gap between fixed and sliding panels to enhance the overall aesthetic.
Cleared passageway with no floor profile.
Single profile to combine fixed and sliding panels for an easy installation.
Clip-fixed gallery for a quick installation.
Door secured by pressure clamps; no need for mechanized glass.
Ball bearing system for smooth opening.
Stopper-brake for optimum closing.
Ceiling or dropped ceiling mounted.

GXI Group, partitions make a stylish and professional office design which as creates a good of first impression with clients when they come to your office. For more services about office and glass partition, contacts us any time!
Images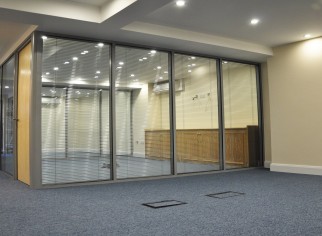 Contact information
| | |
| --- | --- |
| Full name: | JamieDrake |
| Phone number: | 020 8732 5580 |
Ask about this ad