Classified ad details
Revel Roti and Tortilla Maker Machine for Home - Kitchen & cooking
Ref. number: 32700 Updated: 12-11-2016 08:22
| | |
| --- | --- |
| | |
Product Code: R640
Product Barcode: 6300100002465

Popat Stores offers Roti and Tortilla Maker are a great addition to your kitchen if you are a working couple or cannot make rotis. It has a non-stick surface, which prevents the dough from sticking to the surface of the roti maker. The electric roti maker has an indicator to show that the roti maker is connected to power. Its tough stainless steel body adds to the durability. So, if you are looking to make superb round rotis in few minutes, then check out this revel roti maker online. It is flat bread maker is a great and reliable product that allows to make a multiude of items such as tortillas, flat breads such as roti's, fajitas, wraps and quesadilla's. Added features include auto on/off ready light and Built in cord wrap.

Product Features:-

It requires wattage of 1000W and an operating voltage of 230 to 240V AC at 50Hz.
Shock proof, durable stainless steel body.
Have a power-on neon indicator, handle, and a knob to press plates.
Comes with a 1 year warranty.
Made of high quality non-stick coated plates.
Images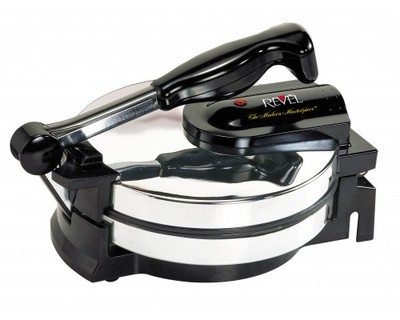 Contact information
| | |
| --- | --- |
| Full name: | sunilpopat |
| Phone number: | 2089036397 |
Ask about this ad